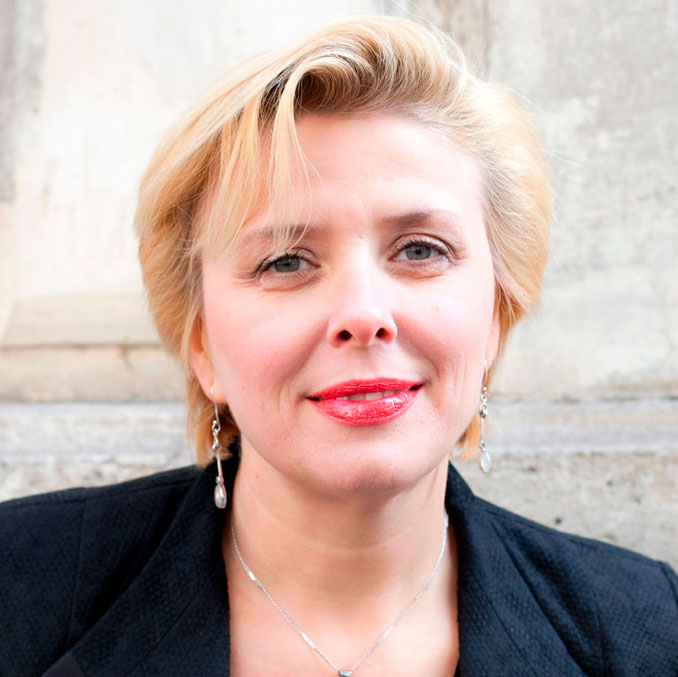 Clara CERNAT, violinist and viola player, is one of the representative artists of the great Romanian violin school.
She lives in France with her husband, composer and pianist Thierry Huillet.
Clara Cernat was a disciple of Stefan Gheorghiu at the Bucharest Music Academy, where she was awarded the highest marks in numerous disciplines. She won several scholarships and she could deepen her art of violin at the Bonn International Music Academy, Germany, winning the diploma of the special program «Europe's greatest talents» (professor Igor Ozim), then at the Ecole Supérieure de Violon Tibor Varga in Sion, Switzerland (professor Tibor Varga). Clara Cernat's career took off after winning the 1st Prizes in both J.S. Bach and Città di Andria International Competitions, as well as the Mozart Special Prize and 2nd Prize in the Kloster Schöntal International Competition.
She is welcomed as a soloist in large venues around the world and in important festivals, such as Théâtre de la Monnaie (Bruxelles), Seoul Arts Center (South Korea), Théâtre du Châtelet (Paris), Palau de la Musica, Auditori and Teatro Liceo (Barcelona), National Center for Performing Arts (NCPA-Beijing), Filarmonica Romana (Italy), Festival Croisements (China), Enesco International Festival (Bucharest), Teatro Gran Rex (Buenos Aires), Filarmonica Lima, Kings Place Festival (London), Accademia Santa Cecilia (Rome).
As a soloist with orchestra, she performs the main violin concertos as well as new works for violin or viola, together with well-known ensembles: Orchestre National du Capitole de Toulouse, Orchestre de Pau-Pays de Béarn, Orchestre de Chambre de Toulouse, Korean Chamber Orchestra, National Radio Orchestra of Slovenia, Camerata Regala, National Radio Orchestra of Romania, Empordà Chamber Orchestra, Filarmonica Banatul Timisoara, Wind Orchestra of Barcelona, Ensemble Orchestral de Corse.
Numerous broadcasts have been dedicated to Clara Cernat (KBC1 TV Séoul, France3, BBC, Radio France, CCTV China, Slovenian Radio-TV, RAI, Deutsche Welle, Radio România, TVR).
Her eclectic repertoire and her taste for beautiful and rare works brought her unanimous recognition. Her CDs and DVDs, with music by Enesco, Bloch, Turina, Kunc, Beethoven, Brahms, Fauré, Liszt, Saint-Saëns, Huillet have been warmly reviewed by the critics (Evénement Télérama fffff, 5 Diapasons, Recommandé par Classica, Coup de cœur Piano Magazine, Le Choix de France-Musique).
Her recordings for the Romanian Radio entered the Gold Phonotheque.
She is also much sought-after chamber music artist, both as a violinist and as a violist, being particularly recognized as a favorite performer of George Enesco's music. Together with Thierry Huillet, pianist and her partner in life and on stage, she founded a duet, playing worldwide and unanimously praised by the music lovers, in concert halls and on internet.
Clara Cernat is a senior professor at the Toulouse Conservatoire (France) and often gives violin and viola master classes.