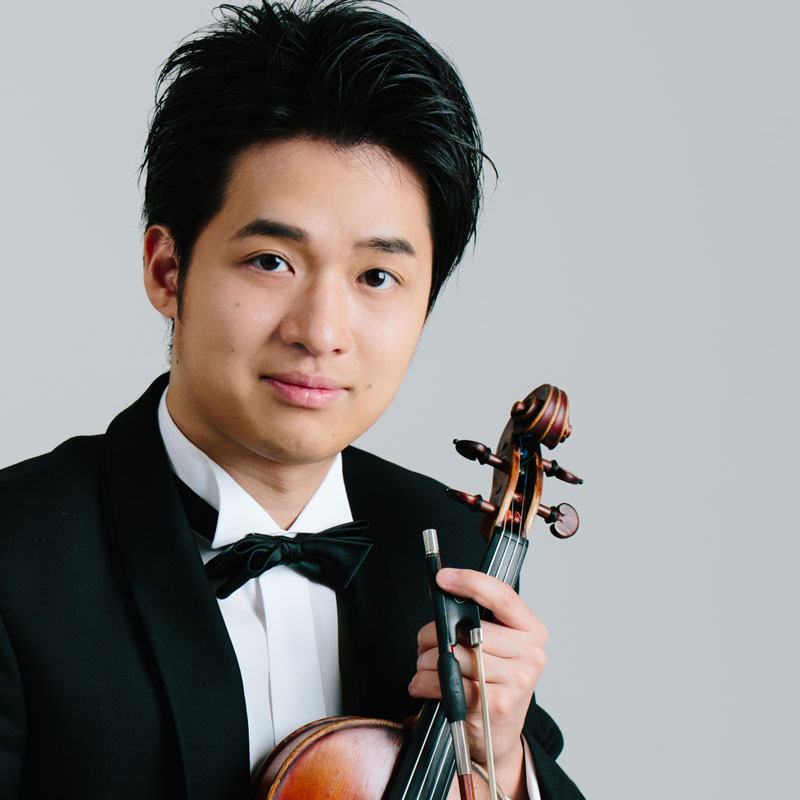 Japan
| | |
| --- | --- |
| № Lot | 26 |
| Performance Time Round 1 | 20.10 17:30 – 18:00 |
| Points Round 1 | 16.57 |
| Performance Time Round 2 | 23.10 16:30 – 17:15 |
| Points Round 2 | 16.83 |
| Performance Time Round 3 | 26.10.2019 12.40 |
| Points Round 3 | 15.33 |
Education institution: University of Music and Performing Arts Vienna
Teacher: M. Frischenschlager
Year: 1990
Accompanist: Tatiana Pavlichuk-Tyshkevich
Nomination: Laureate of the competition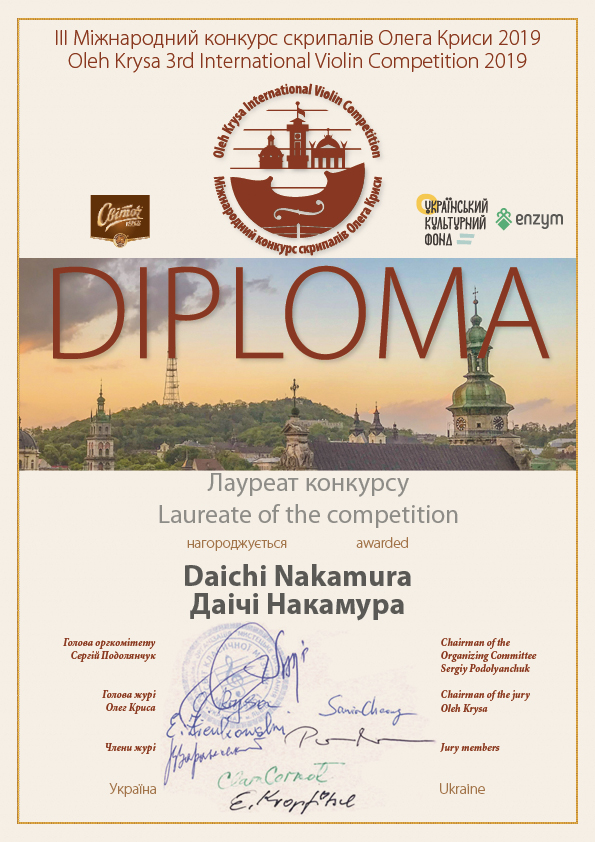 Johann Sebastian Bach. Ciaccona from Partita for Solo Violin № 2 in D minor, BWV 1004
Niccolò Paganini. A caprice №17 Op. 1
Henryk Wieniawski. An étude № 8 Op. 10, "L'Ecole Moderne"
Fritz Kreisler. Recitativo and Scherzo, op. 6
Wolfgang Amadeus Mozart. The first movement of the Violin Concerto №1 in B major, K. 207
Maurice Ravel Tzigane
Johannes Brahms Sonata № 3 in D minor, Op. 108
Yevhen Stankovych. Concerto for Violin and Orchestra N. 5 (2017) "Question without Answer" Dedicated to Oleh Krysa
Dmitri Shostakovich. Concerto № 1 in A minor, Op. 77
He started to participate some competitions when he was 8 years old and awarded many prizes in Japan, and also became Laureate in the following important international competitions, awarded 1st prize at 24.Johannes Brahms International
Competition in 2017 and some prizes at the Tchaikovsky Competition for young musicians, Aram Khachaturian, Rodolfo Lipizer Competition and the Fritz Kreisler International Competition as well.
After he got the 1st prize in the Nedjalka Simeonova International Competition 2011 in Bulgaria, Ihe was invited and performed Beethoven Violin Concerto with Sofia Philharmonic Orchestra with Maestro.Angel Stankov who was the chairman of that competition.
And awarded also some prizes at the Kuhmo Chamber Music Festival (in Finland) and Allegro Vivo Music Festival (in Austria). When he got the prize at the Allegro Vivo Music Festival, his performance at the Galaconcert is broadcasted by the austrian state-run broadcast "ORF". Nowadays he is invited as an artist of the Kuhmo Chamber Music Festival since 2016.
He performed with following Orchestras, St. Peterburg Symphonic Orchestra, Kragenfurt Symphony Orchestra, Sofia Philharmonic Orchestra, SFK Symphonic Orchestra, Filharmonia Zielnogourska, Nagoya Philharmonic Orchestra, Kyushu
Symphonic Orchstra, and etc.
He studied with Prof.M.Frischenschlager who was former directer of University for performing arts and music Vienna, and currently awarded the Culture Prize 2016 from my hometown Kitakyushu-city in Japan and in 2018, he made a sponsor contract with the japanese Airline, Starflyer.